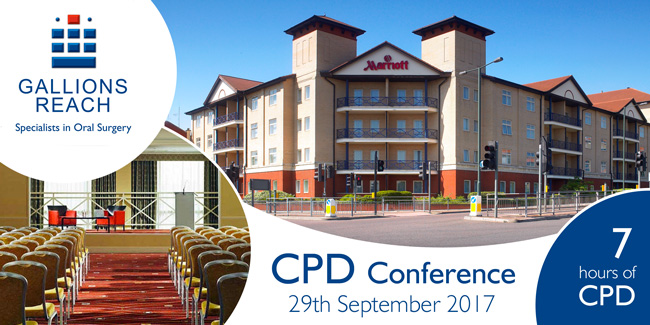 'Dentistry: today and tomorrow'
This carefully structured one day training conference will provide dentists, DCPs and their administrative teams with 7 hours of CPD recommended by the GDC. We will be making only a nominal charge to cover basic costs.
We have designed the day's content to be enjoyable, informative and of real value to the entire dental team – surgeons, hygienists, nurses and administrators – and, during the conference, you will hear presentations from some of the leading experts in UK dentistry.
We provide refreshments and lunch for all attendees. The hotel has limited parking at £7/day plus there is a pay and display carpark near to the hotel.
Bexleyheath Marriott Hotel
1 Broadway
Bexleyheath
DA6 7JZ
Bexleyheath Marriott Hotel
1 Broadway
Bexleyheath
DA6 7JZ
Here is the day's agenda:
08.45 – 09.15 Registration & coffee
09.15 – 09.30 Welcome
09.30 – 11.00 Update on medical emergencies
11.00 – 11.30 Morning break
11.30 – 12.30 Child/Adult safety
12.30 – 13.30 Lunch
13.30 – 14.15 TIE presentation
14.15 – 15.15 Infection Control
15.15 – 15.45 Afternoon break
15.45 – 16.45 HR and employment law update
16.45 Close
If you have any questions please don't hesitate to contact us on 020 8312 1626.