Cosmetic Dentistry in Thamesmead
Cosmetic dentistry has advanced rapidly over the last decade, and is also now more accessible and affordable. Although people generally tend to think of it purely in terms of improving looks, these treatments can bring significant associated health benefits, too.
Getting teeth better aligned or straightened is particularly beneficial for young adults whose teeth are still growing, helping them to establish a stronger adult mouth. It may also – for young and old alike – correct an imbalanced 'bite' which can, in some cases, lead to chronic headache-like pain
Most cosmetic treatments will make you look younger, with some enabling you to both eat and speak without feeling embarrassed or self-conscious. All these benefits, in turn, lead to increased self-confidence
Techniques such as bonding can, by covering fractures or chips, strengthen your teeth and help prevent further damage
Additionally, people who make an appreciable financial outlay on cosmetic dentistry usually tend to refocus on improving their oral hygiene routine. Some will also amend their diet to minimise the risk of sugar damage and staining their attractive 'new' teeth.
Many patients feel more self-confident and have greater self-esteem after having cosmetic dental treatment.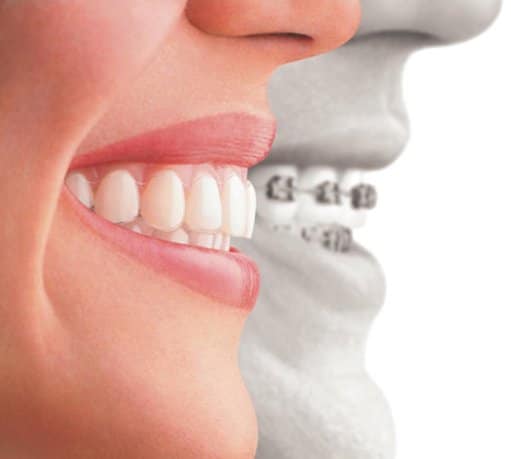 Clear braces
So-called 'invisible orthodontics' enable us to offer advanced teeth-straightening techniques that will spare you having to wear unsightly metal braces, and can be the ideal solution for crowding or protrusion of the front teeth. With invisible orthodontics you can wear either clear braces or ones that fit on the inside of your teeth, often for a much shorter treatment time.
The major benefits of treatment options like Invisalign include:
A generally shorter treatment time
Straighter teeth and better alignment of your top and bottom jaws
With no visible braces you'll feel less self-conscious and more confident in public
You can remove some of these braces for activities, such as eating, for added convenience and oral hygiene.
Bleaching and veneers
Teeth Whitening
Tooth whitening – the choice of many celebrities – has become increasingly popular in recent years. You could opt to have only some of your teeth bleached in order to avoid a crown or veneer but, more often, we'd recommend whitening them all to provide a brighter smile.
This involves you wearing a clear tray, filled with a bleaching gel, which gently whitens your teeth. Typically you'd wear the bleaching tray with the whitening gel for 1 to 2 hours per day for two weeks. You'll find more information on the cost of teeth whitening in our fees section.
Veneers
If you have spaces between your teeth, or crooked, broken down or particularly dark teeth, dental veneers might offer a solution for you. We generally prefer to straighten teeth with orthodontics or lighten them with teeth whitening, both of which preserve your natural tooth structure as much as possible. However where this is not possible, a dental veneer can provide a good cosmetic alternative that should last many years.
Dental veneers:
Are very thin, individually handmade from porcelain and bonded to the prepared tooth surface
can improve the colour, shape and position of your teeth. A precise shade of porcelain can be chosen to give the right colour to improve a single discoloured tooth or lighten the front teeth
can make a chipped tooth look intact again. The porcelain covers the whole of the front of the tooth with a thicker section replacing the broken part
can also be used to close small gaps when braces are not suitable. If one tooth is slightly out of position, a veneer can sometimes be fitted to bring it into line with the others
will take at least two visits: the first to prepare your tooth and match the shade, the second to fit.