For a quarter of a century, Gallions Reach has established a reputation for delivering dental excellence to people in the Greenwich area across a full range of services.
Many dentists in our area refer patients who require more advanced work to our highly-qualified staff. In this role we provide general dentists with an additional tier of dedicated expertise for potentially life-changing treatments that they would not normally undertake themselves
All our patients, whether NHS or private, benefit from precisely the same high level of dental expertise, facilities and overall care. The sole difference lies in the range of treatments we offer. However with more complex procedures readily available in house, we are happy for NHS patients to 'upgrade' as and when they choose
From our clinic in Thamesmead we offer services including – in addition to general dentistry – dental sedation for nervous patients, implant placements and a range of cosmetic dental treatments.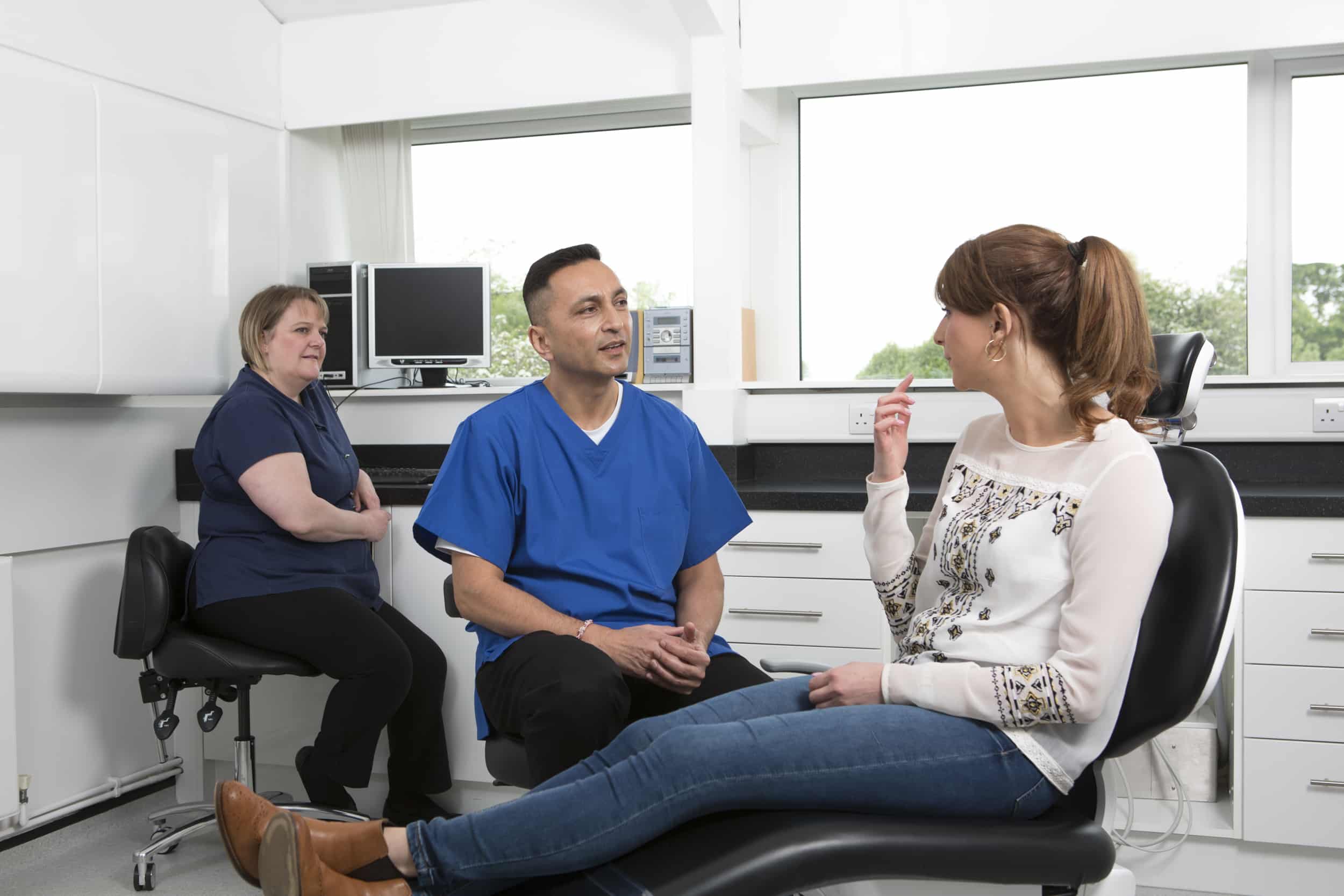 We have provided over 170,000 patients in the Greenwich area
with high quality dentistry for over 25 years.
Our Centre
Gallions Reach Dental Clinic was originally established in 1990 as a referral centre for the provision of surgical dental treatment for nervous patients.
A major recent refurbishment included air conditioning and substantial investment in the latest dental technology. So Gallions today is a modern, superbly equipped, multi-surgery dental practice providing treatment to both local patients and those referred by their own dentists for more advanced work.
We provide a full range of surgical and restorative treatments with more advanced procedures undertaken by specialists. And, thanks to our holding consultation and operating lists every weekday, waiting times are generally short.
Our promise
We are dedicated to providing you with the highest quality of professional care within a first-rate environment.
In proposing treatment we will take account of your own wishes
We will provide personal care that is unique to you as an individual
We will explain all your options and costs so that you can make an informed choice
We will always explain what we are doing
We will do all we can to look after your general well-being
We will ask about your general health and medicines. This helps us treat you safely
We will keep all information about you confidential
We will screen you for mouth cancer at routine checkups.
OUR FEES
The following list gives guideline costs of our most common treatments. We discuss individual treatment plans with every patient before we begin any work. We offer a number of finance options to help you 'spread the load', and will be happy to provide full details on request.
| | | |
| --- | --- | --- |
| Existing patient consultation (Inc OPG + All diagnostics) | | £ 40 |
| New patient consultation (Inc OPG + Bite wings) | | £ 45 |
| Referred patient consultation (Inc X-rays) | | £ 45 |
| Pain consultation | | £ 45 |
| OPG | | £30 |
| BW | | £10 |
| PERIODONTAL | | |
| Scaling | | £ 35 |
| All other hygiene work to be referred to hygienist | from | £75 |
| FILLINGS | | |
| Amalgam | Small | £ 75 |
| | Medium | £100 |
| | Large | £150 |
| White-tooth coloured restoration | Small | £100 |
| | Medium | £150 |
| | Large | £225 |
| | X Large | £300 |
| CROWN & BRIDGE | | |
| Bonded crown | | £500 |
| Golden crown (price of gold changes daily) | | POA |
| Bridge | | £500 |
| Maryland simple | | £500 |
| Complex asthetic crown | | £625 |
| All ceramic porcelin veneer | | £625 |
| Fully ceramic crown | | £625 |
| Full ceramic bridge per unit | | POA |
| ROOTS FILLINGS | | |
| Incisor / canine | | £320 |
| Premolar | Single root | £320 |
| | 2 root | £420 |
| Molar | | £520 |
| EXTRACTIONS | | |
| Simple | | £320 |
| Intermediate | | £225 |
| Complex | | £350 |
| WHITENING | | |
| Enlighten Whitening | | £60 |
| Boutique Whitening | | £450 |
| Opalescence Whitening | | £400 |
| Sports guard | from | £75 |
| I.V SEDATION | | |
| | 15 Mins | £100 |
| | 20 Mins | £125 |
| | 30 Mins | £175 |
| | 45 Mins | £225 |
| | 60 Mins | £350 |
| DENTURES | | |
| Addition | | TBD |
| Simple | | TBD |
| Complex full/full | | TBD |
| RE-CEMENT | | |
| Crown only | | £50 |
| Crown plus new core pin | | £75 |
| Bridge | | £75 |
| | | |
| --- | --- | --- |
| Initial examination (includes x-rays, diet analysis and oral hygiene instruction) | | £75 |
| Flouride varnish application | | £20 |
| Fissure sealant | per tooth | £35 |
| X-ray | small | £20 |
| Panoramic | | £45 |
| White fillings (Composite) on baby teeth | from | £80 |
| White fillings (Composite) on adult teeth | from | £100 |
| Root canal therapy on baby teeth | | £150 |
| Performed metal crowns on baby teeth | | £100 |
| Performed metal crowns on baby teeth | | £100 |
| White crowns on baby teeth | | £250 |
| Extraction | from | £85 |
| Emergency exam post-trauma (includes all necessary X-rays) | | £80 |
| Inhalation sedation, dependant on time required | from | £80 |
| Intravenous sedation, over 12 years of age | | £250 |
Non clinical consultation (with Implant Coordinator)
No charge
Clinical consultation which includes a written report (excluding radiographs)
£75
Radiographs:
– 2D x-ray
– High definition 3D CT Scan:
£45
£120 single arch
£200 both arches
Single implant - including implant & crown
from £2,100 (per implant)
Multiple implants
– Three teeth with two implants
– Four teeth with two implants
from £5,175
from £6,150
Full arch/Teeth in a day
– Single arch - upper or lower with a fixed bridge
– Both arches - upper and lower with fixed bridges
from £13,400
from £26,800
Guided bone regeneration
from £300
Intravenous sedation
from £350
Hygienist session
£95
Initial consultation including written report
£75
Radiographs:
– Small

– OPG

– CBCT
£10 each
£45
£120-£200 exclusive of radiology report
Nonsurgical debridement
£360
Resective periodontal surgery including monthly reviews for 2 months
£540
Muco-gingival surgery such as management of recession
£540
Regenerative surgery including monthly reviews for 5 months
£850
The fees above apply for treatment of peri-implantitis, but it will be revised upwards depending on the amount of regenerative material needed if regeneration is indicated
Reassessment including written report
£95
Crown lengthening surgery (additional fee may be required for follow-ups)
£560
| | | |
| --- | --- | --- |
| BOTOX | | |
| One Area | | £ 199 |
| Two Areas | | £250 |
| Three Areas | | £350 |
| SKIN CARE | | |
| Skin Care Consult | | £30 |
| Skin Booster | per session | £350 |
| DERMAL FILLERS | | |
| Lip | | £249 |
| Cheek | | £499 |
| Chin | | £350 |
| WHITENING | | |
| Englighten | | £650 |
| Bouteque | | £400 |
| Opalescence | | £400 |